Restaurant & Bar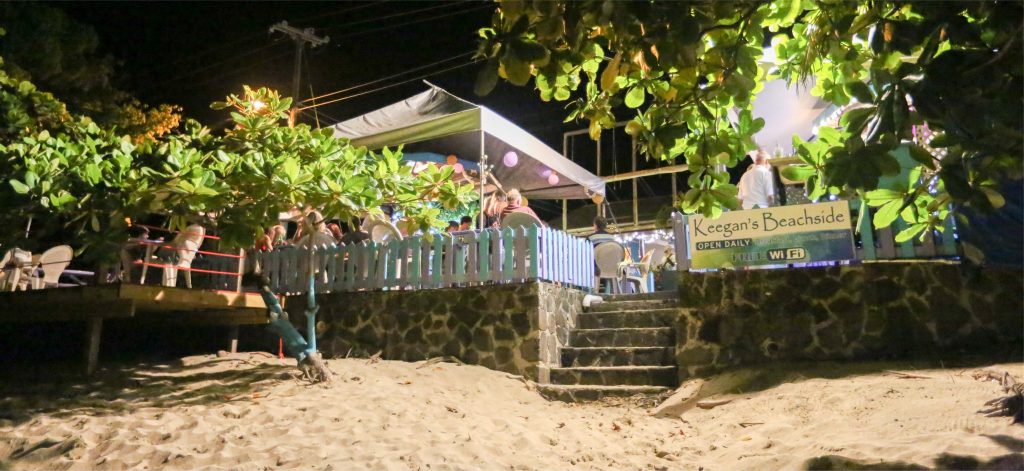 Our restaurant and bar are open every day of the year, serving breakfast, lunch, dinner and drinks. Why not check out our menus…?
Looking for a package? Ask about our 'Meal Plans' .We can give you a room rate that includes Breakfast & Dinner.
Groups
Want to join in the fun at Keegan's Beachside? We'll arrange a free pick up and return from Port Elizabeth to our bar and restaurant in Lower Bay on Bequia for parties of five or more.
Events
We have a range of events which run throughout the week in high season including:
Monday – Lobster Madness 7.30pm
Tuesday – Happy Hour 5.30-7.00pm
Wednesday – Movies under the Stars 7.30pm
Friday – Fun Friday – Happy Hours – 5.30-8.30pm
Saturday Night – Beachside Barbeque
Sunday – West Indian Buffet
In addition we host a Beachside Hog Roast party whenever there is a Full Moon in high season and every August we host a Seafood Festival which draws visitors from across the Caribbean.
Follow us on social media to keep up to date with what's happening here at Keegan's Beachside