Bequia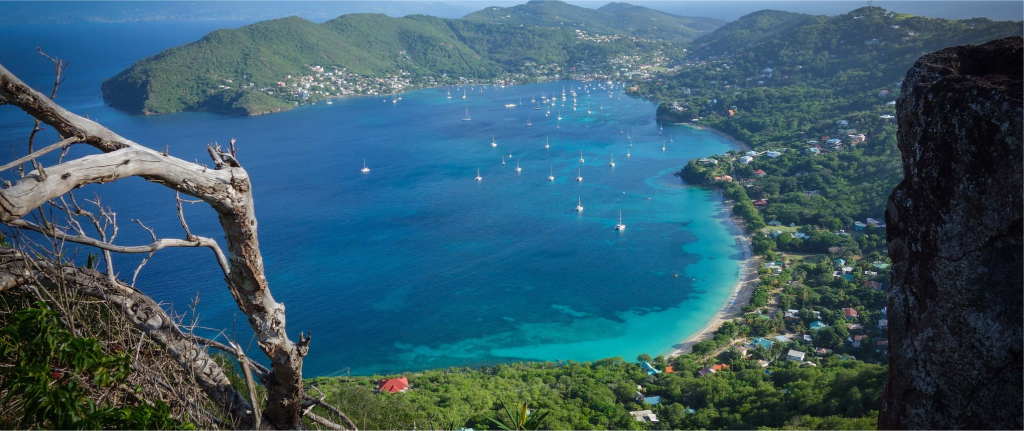 Lying a few miles south of the island of St Vincent, Bequia (pronounced Beck-way) is the largest of the Grenadine islands . It is just seven square miles in size with 5,000 or so warm and friendly inhabitants eager to welcome you to its shores.
It has beautiful unspoilt beaches of course, edged by the island's lush green interior. And the peaceful waters which surround it offer opportunities for everything from yachting to scuba diving. But there is much more to Bequia. You could explore the island's rich history and the age-old traditions of fishing and boat building, still very much in evidence for the curious visitor. Wander through the quaint waterfront of the island's capital, Port Elizabeth where you can find a choice of charming bars and restaurants, small shops and market stalls. Or perhaps explore the rich arts and crafts produced by the island's talented artists. However you choose to spend your time on Bequia, it will be relaxed and unhurried.
But be warned, many visitors become so enchanted with our beautiful isle, they return time and time again.
We can help organise some special activities for you to enjoy including:
On The Land
Massage & Spa
There are a number of Massage Therapists and Spas on the island. We can arrange appointments for you either at their offices/salons or in the privacy of your own accommodations here at Keegan's Beachside.
Hiking
Hiking is a wonderful way to explore this beautiful island. We can arrange a knowledgeable local guide to lead you to some of Bequia's highlights such as the summit of 'Ma Peggy', which offers awe-inspiring views across the whole of Lower Bay, Princess Margaret Bay and Port Elizabeth.
Taxi Tour
Another great way to explore is in the back of one of the island's legendary open- back taxis. Sit back, relax and enjoy a guided tour of amazing places such as Hamilton Fort, Spring and Industry, the Turtle Sanctuary, Mount Pleasant and Southside.
Car Hire
If you prefer to travel under your own steam, we can arrange affordable car hire to help you get around. Visitors will need to purchase a local driving licence from the Revenue office in Port Elizabeth.
Cross Country Golf
Bequia now has its own six-hole, par three cross country golf course with stunning views across the Firefly plantation. It costs just EC$25 per round per person including rental of clubs and balls.
St Vincent
Just a one-hour ferry ride transports you to the country's capital where you can embark on guided tours of the tropical rain forest, breathtaking waterfalls, the Botanical Gardens (the oldest in the Western Hemisphere)' The Pirates of The Caribbean' film set and much more.
On the Water
Snorkelling & Diving
Bequia has two well established dive shops –www.bequiadiveadventures.com and www.divebequia.com – who can cater for the most experienced divers as well absolute beginners. ​Snorkelling trips are also available.
Sailing & Crusing
Why not take a day trip to the neighboring island of Mustique or to the stunning Tobago Cays Marine Park? We can arrange for sailing/cruising on board luxury sailing yachts, stylish catamarans, powerful motor cruisers or even the island's former 'ferry', a beautifully restored schooner called the Friendship Rose.
Sunset Cruises
Enjoy prosecco and canapés while watching the beautiful sunset from the deck of an elegant sailing yacht, before anchoring in a secluded bay and being served a delicious 3 course dinner, including delicious fresh lobster and wine. Dinner alfresco under the stars – what could be more perfect?
Castaway Picnic
Bring out your inner Robinson Crusoe with this special day trip aboard a Motor Yacht to a nearby uninhabited island, where you can enjoy a fabulous private picnic lunch for you and your special friends.
Fishing
Whether you're a keen angler or just enjoy being out on the water watching the world go by, we can arrange a fun fishing trip to remember including pick up right on the beach, a lovely picnic andall the fishing gear and bait you will need.